Winged bean has various names like four angles, dragon, and others. They are a good source of nutrients like protein, fiber, magnesium, zinc, and amino acids, which are essential for our body.
The best thing about this plant is that all the parts, including the tuber, are edible. You can eat leaves of winged bean plants like spinach.
The flowers of this plant can be cut into small pieces and added to a salad. One can consume tubers either in raw or cooked form, and the seeds can be eaten like soybean.
So, how do germinate and plant winged bean seeds? Winged beans grow well in warm temperatures.
First, soak the seeds in a water container for at least two days. The seeds will start swell and then you can plant the seeds. The winged bean requires a good amount of sunlight to grow, and you can harvest within 75 to 80 days after planting seeds.
MORE POSTS: How to grow jalapenos from store-bought peppers?
What Are The Proper Conditions Required For Growing Winged Bean?
We are listing below some of the conditions which are pretty essential for the proper growth of winged beans.
1. Soil
Winged beans can grow in any type of sandy and loamy soil. Try to grow winged bean plants ina well-drained soil; otherwise, the root can rot.
2. Water
Try to water your plant every morning so moisture can easily absorb in the soil. These plants grow well in sunlight, so you need to water them daily.
Winged beans do not grow in drought conditions and require little humidity to grow properly.
Always soak the seeds for 24-48 hours before putting them in the soil. If you skip this, your seed will take longer to germinate in the soil.
3. Sun And Temperature
Winged bean plant requires a good amount of sunlight for proper growth. It grows best within 77 to 85 degrees Fahrenheit.
If you are staying in a frigid climate, try planting winged beans a few weeks before the last frost indoors. You can transplant the winged bean plant once the outside environment becomes favorable.
4. Fertilizer
Fertilizer is highly essential for the growth of the plant. But don't prefer nitrogen-enriched fertilizers. Nitrogen will help in growing leaves, but it will hinder in development of many pods.
You can add fertilizers rich in phosphorous and potassium for healthy growth.
How To Germinate And Plant Winged Bean Seeds?
1. Purchase Seeds
Your first duty is to purchase winged bean seeds. You can buy it online if it is unavailable in a local nursery. The seed packet is relatively inexpensive, and you can easily buy it.
2. Soak The Seeds In Water
You will soak a few seeds in a bowl containing water for almost 8-9 hours. The seeds will be double their original size after 8 -9 hours. You may find one or two seeds that will not swell up.
It is because of the hard seed coat that water cannot penetrate inside it. You can scarify those seeds carefully with a nail cutter and then soak them for 6-8 hours so that they will also swell.
3. Wrap Seeds In A Paper Towel
Now all the seeds which you have soaked in water have swollen. So, your next duty will be to wrap all the seeds in a plastic towel and put them inside a plastic bag. The winged bean will require approximately 77 to 86 degrees Fahrenheit for proper germination.
Winged bean seeds will start to germinate within one or two days. You need to put them in the soil quickly; otherwise, it will be difficult for you to handle their white roots.
4. Plant Seeds
You can plant them directly in your yard or a growing medium and then transplant them in your yard when the condition becomes favorable. If you are planting it in a pot, put either one or two seeds at least one-half inches below the soil. You can then sprinkle water to support germination. Place the pot where it can receive
at least 6 hours of direct sunlight for proper growth. You will observe that the winged bean will start to sprout within 3-4 days. Add fertilizer for proper growth of the plant.
The roots of this plant are very delicate. So, you must transplant them carefully, mainly when the soil temperature is approximately 65 degrees Fahrenheit.
Remember, the winged bean seed grows well in a good amount of sunlight. If you are growing in your yard, choose a place with a good amount of sun for growing winged beans.
You should keep at least two feet distance between two rows during transplantation. The seedlings must be separated at a distance of 4 feet.
You can provide a trellis later to allow the vine of approximately 8 feet.
The winged bean plant grows very fast in the hot summer months. You will start observing seed pods in the late summer season.
5. Pruning
The plant doesn't require much pruning. But cutting the upper part of the plant when it becomes almost 13 inches tall results in much healthier and bushy growth. Pruning is even essential to control pests and enhance airflow in the plant.
6. Harvesting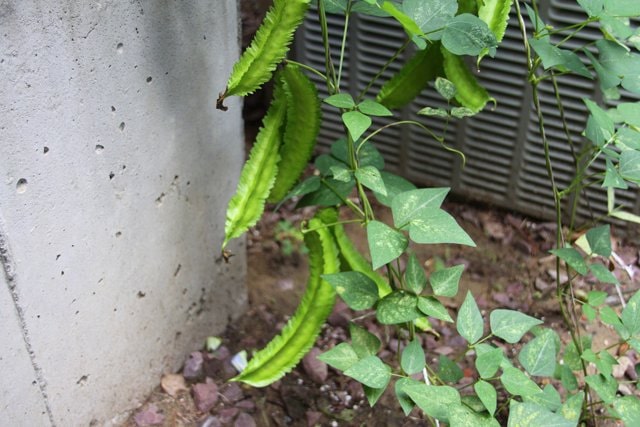 The pods are rich in protein and are ready to harvest when they are green in color and tender. Most people like to harvest when the pods are 2 inches long.
You can harvest leaves at any time and put them in salads, or they can be added to rich dishes or other Asian dishes for flavor.
The roots can be harvested at the end of the season. You have to dig the plant and take out the tuber. The tuber can be consumed by boiling, baking, or making chips.
7. Storing
You can pick young green pods and store them for future use. Additionally, you can preserve the seeds so you can sow them in the next growing season.
You can keep the winged beans in a plastic bag and store them in the refrigerator for almost seven days. But never keep flowers or leaves in the fridge. Consume it fresh and enjoy its flavor in soups, salads, or other dishes.
What Are The Insects Which Are Commonly Seen In Winged Beans?
Aphids quite commonly attack winged beans. So, if you see aphids in a plant, spray water to remove them. There are even some insects like ladybugs who consume these aphids.
There are even some caterpillar and beetle species that can even destroy your winged bean plants.
For instance, cutworms are a variety of caterpillars that attack winged beans. They are usually seen in spring and feed leaves of winged beans until they become moths. You can control them either by spraying insecticides.
Common Diseases Seen In Winged Bean Plant
If you overwater your water your winged bean plant, especially in the foliage area, then it can cause fungus like downy mildew on the leaves.
It is a condition in which the leaves will have yellow spots and black spores underneath. It is often mistaken as powdery mildew, a disease where white powder is found on foliage.
You can prevent downy mildew by always providing water on the bottom of the plant.
Remove the leaves if it is infected with downy mildew; otherwise, it will attack the rest of the leaves and the side plants. Again after removing, spray neem oil on the whole plant to lessen the risk of downy mildew.
Frequently Asked Questions
1. Do winged bean seeds need full sun?
Yes, they need abundant sunlight for proper growth. Simultaneously provide a trellis to support the climbing vine. If you don't offer support, the tree will be unable to produce many pods.
2. What is the life cycle of a winged bean?
Winged beans grow faster compared to other legumes and soy plants. You will observe flowers in the plant within 80 days after sowing seeds, and the pods will reach their full length approximately two weeks after pollination. The seeds completely mature after three weeks of pollination, and you can harvest them.
3. How long should I soak seeds before planting?
You can soak seeds overnight before planting. Some sources recommend soaking for 8-12 hours for the best results. Don't soak for 24 hours; otherwise, the seed will decompose.
Conclusion
The Winged bean plant is a protein crop you can easily grow in your yard. The best thing is all the parts are edible, including their tubers.
You can boil, steam, roast, and even fry tubers of this plant and consume. Simultaneously you can eat pods either in raw form or cook them in water or oil.
Thank you for reading this article, and if possible, you can post some pictures after planting winged beans in your yard. We will be delighted to see the images.
Happy gardening!
MORE POSTS: How To Increase Egg Plant Yield?