It is very delicious to have some green onion leaves in the salad or as a topping on dishes. They are also called Scallions. You can use these green onion leaves as a garnishing item, or to enhance the flavor of a dish. Do you know that you can use store-bought onions to grow new plants for these delicious leaves?
How to get green onions from a store for free
You can get free onion bulbs from stores. Most stores through away the onions that are little damaged or small in size. You can get these onions from the store and grow your own.
You can also grow green onion plants from the bottom of the store-bought onions. After you have eaten the top of the onion, keep the bottom for planting.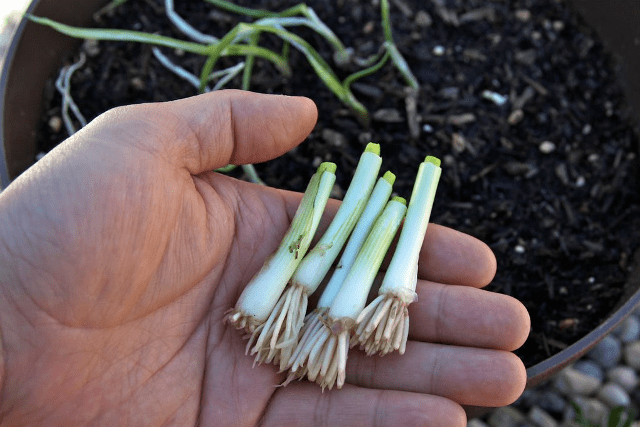 How to grow store-bought green onions in a pot
After you get the onion bulbs, it is time to plant them in the soil. The best potting soil for growing onions is loamy and alluvial soils with good drainage. You can add organic compost or vermicompost for better growth.
The depth of the pot for growing green onion should be about 10 inches. Fill the pot with soil and plant the onion bulb or onion bottom one in each pot.
When do you harvest the green onion leaves?
You can literally harvest the leaves of an onion plant many times. As long as you are providing water and nutrients to the plant, new leaves will come out after each harvest. The best time to harvest the leaves of green onion is when the leaf grows to about 12 inches tall.
How to grow green onions from seed
Do you know that you can grow green onion plants from seeds?
Step 1: Fill a seed tray with compost.
Step 2: Press the compost down with the palm of your hand to make it firm. Then, water the compost to make it moist.
Step 3: Sprinkle seeds onto the compost.
Step 4: Cover the seeds with a layer of compost and then press with the palm of your hand.
Step 5: Keep the tray in a warm place and well-watered.
After about a week you will see the new onion seeds germinating and seedlings coming out.
Step 6: Once the onion plants reach two inches tall, it is time to plant them in soil. Plant them two fingers apart and water well.
That's it. Now you need to water them well and keep the place weed free.
YOU MAY LIKE: