Culinary specialist sage is an outstanding, beautiful-looking shrub with greyish green leaves. It is a branch of the mint family that grows well indoors and outdoors and is considered one of the best culinary herbs. If you want to make your place aesthetically beautiful or if you wish to add some flavor to your foods, you can propagate this plant without much hassle. You will find multiple varieties of it. Each has a different taste, and pretty flowers bloom.
But do you know what sage is? Well, it is a famous herb that people use in their kitchen and also has medicinal values. You can call it a showstopper for many dishes as you can add a delicious touch to pork, lamb, poultry, and many other recipes. Besides, you can make good tea also. It is also ideal for squash dishes and risottos. The aromatic flavor surely attracts you and makes your food more lovable. As you know, it has medicinal benefits. Sage plant improves memory and assists in resolving stomach-related issues.
Some sage varieties are small and grow compact, while others are massive, around 8 to 9-feet tall and wide. But remember that not all sage types are edible, as some are purely ornamental. These ornamental ones also offer benefits like seducing bees through them and will help you save your other plants from them. It produces a wide range of multicolor flowers. You will notice different leaf colors like purple, yellow, silvery-grey, deep-forest green, and so on.
So, after reading the above section, do you want to propagate sage in your abode? But do you know about the different types of sage? Do you know which type is edible and you can use it in your cooking? Do you know how to grow and care for it? Well, do not worry as we will help you in this regard. Below, we have penned down all you need to know about sage. This growing guide for sage plants will surely assist you, as you can learn about the types and get information on how to propagate and care for them. Hence, go through the below segments and be a sage pro.
Common types of Sage grown in the US
You will find multiple varieties of sage grown in the USA. All of them have specific characteristics and aromas. People in the USA like to grow them in their house as these plants have many benefits. So, if you want to know about the common sage types grown in that land, read the below section now.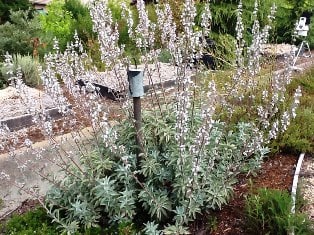 Salvia Apiana or White Sage is a bushy shrub. Mostly found in Southern and Baja California, this sage grows up to 3 to 4-inch long or 7 to 10-cm. It has aromatic foliage and releases a sage fragrance when bruised. It is edible, and you can never forget its taste. You can add it to your spice and herb collection and use its flavor in many recipes. It almost tastes like pine. Not only this, but it also looks nice. You will see white flowers with lavender spots in the springtime. The flower stems can rise to 180cm or 6feet and get scattered in all directions.
Besides, each flower spike can generate around 100 blossoms. In addition, white sage is also reflective with night lighting and the moon. It thrives in full sun and almost in every well-drained soil type. You only need to water it once a month in the summer season. On top of it all, you can propagate it from seeds, roots, and divisions. Native people prefer this sage, as they can use it as a food ingredient and use its dried leaves as an incense stick for ceremonial purposes.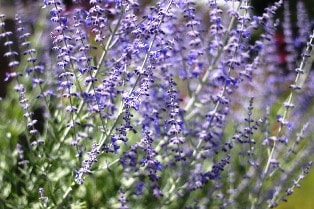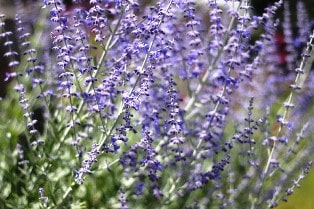 Russian Sage or Perovskia atriplicifolia is a well-liked sage type among people. Praised for its silvery grey, aromatic foliage, this sage marks its footprint in people's gardens. You will notice some beautiful lavender-purple flowers, and they make this sage more elegant. Its rich and spiky flowers bloom from the late spring season until autumn. At that time, you will see it covered with leaves. It is a versatile sage type as you can use it as a field cover for outdoor areas or as an individual plant. Russian sage is a hardy type, and you can grow it without much hassle. It likes to extend in any dry conditions, and as a result, you must select a partly shaded spot. Besides, water it occasionally during dry seasons until they are full-grown or established. Many people use gravel to decorate or mulch it. But remember that if you want to mulch it, never utilize organic materials as it cannot enable moisture evaporation. Its likeness toward dryness makes Russian sage an excellent plant for xeriscaping.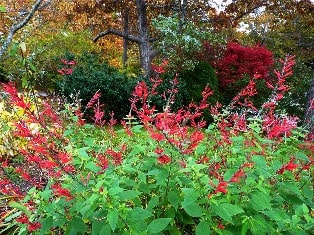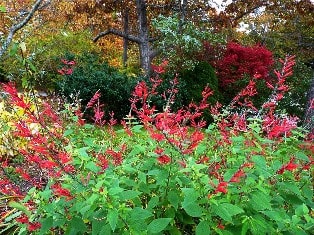 When you first notice a Pineapple sage, you will not believe that it is a sage type. But why so? Unlike other kinds of sage, its leaves are unique and do not look like typical sage leaves. The leaves are bright green and have an aroma that is almost similar to pineapple. But if you taste it, you will get a mint-like flavor. The fascinating fact is that you can grow it in warm winter conditions and extremely cooler climates also.
As it is an edible and delicious plant, you can use it in your cooking. You can make aromatic tea also and get the taste of mint. Apart from this, Pineapple sage has medical benefits as it has antibacterial properties. So, if you want to propagate it, you must remember a few things. First, you need to place it in a position, so it gets sufficient sunlight in the morning and shade in the afternoon. It can withstand drought once fully grown. But you must give it moist soil so that it can thrive adequately.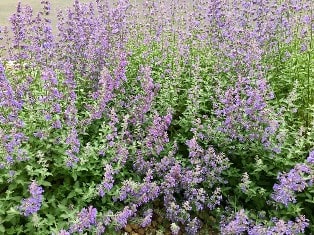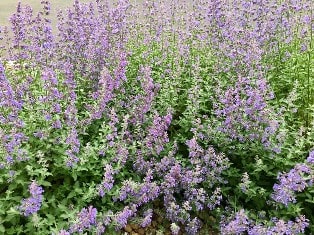 Purple sage is a semi-evergreen aromatic shrub. It is native to Baja California and the southern coast of California. You will see this type of sage rising to 1.5 meters on dry and open hillsides. It has greyish leaves that are 2 to 8cm long with a puckered surface. The plant is hardy, elegant, and simple to grow. It has large spikes of purple flowers that are 6 to 13mm long. You will smell a pleasant aroma that attracts you and several insects and birds.
Besides, you will notice a Purple Sage variety over 10 feet in height and 2 to 4 feet long. You can use it as a groundcover with ease. You might not believe that this sage has an excellent drought-tolerance capability. It also withstands water up to twice a month in the warm season. The flowers bloom after summer rains and are followed by tiny seeds with two-valved capsules. Furthermore, you can grow it in a steamy tropical climate also.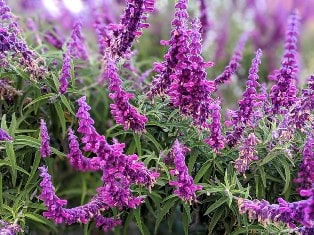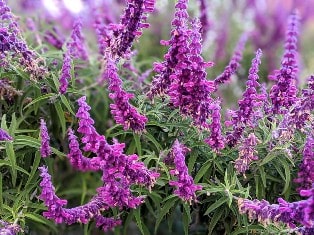 You will find Mexican Sage, primarily in Central America. It is an evergreen shrub that is dense and has arching spikes. It is an outstanding companion plant for gardens and mixed beds. You can also utilize it for floral arrangements or decoration. You will get a soft and hairy feeling when you touch it. The bi-color blooms incorporate purple calyces and white corollas. It takes the shape of a medium to large sage, and it is 4 to 6 feet tall. The deep green-grey lance-shaped leaves add more beauty to Purple Sage. Besides, its flowers have a long blooming period, as you can expect them to bloom from mid-summer to the beginning of winter. The propagation is also easy. It prefers full sunlight and also tolerates light shade. You only need to keep the soil moist for its better growth.
Types of Sage for Cooking
As you might understand, there are various types of sage out there. Each has its unique look and fragrance. You can use some in your cooking and make your recipes delicious. So, do you know which sage type is best for cooking? We have offered a culinary sage collection in making outstanding food and also increasing your abode or garden aesthetic value. So, why wait? Let us begin the exploration now.
Salvia Officinalis
Salvia officinalis is probably the most common type of sage, as you will find it in most supermarkets and homes. Its flowers are edible, and you can use them for garnishing or in a salad. Besides, you will locate multiple types of Salvia officinalis cultivars. Therefore, you must select one as per your requirement and desire. If you do not know about these varieties, look at the section below.
Berggarten has lavender-blue flowers that bloom in the late spring.
BicolorIcterina has bicolored leaves with silvery-green centers and cream-colored edges.
Curly– As the name suggests, it has curly and rippled leaves.
GoldenSage– Like its name, it has golden leaves. People often called it Aurea.
Grower's Friend has no flowers, but it has medium-green leaves in the upright position and red-colored stems.
Holt's Mammoth has massive leaves.
Pink Flower– People referred to them as Rosea, as it produces pink flowers.
Purpurea produces purple leaves. That is why people referred to it as Purpurascens or Purple Sage.
Tricolor Sage- The leaves have three different colors, which are white, grey-green, and purplish-pink.
White Edged has deeper-green-colored center leaves with stark white edges.
2. Salvia Elegans
Like Salvia Officinalis, it also has multiple cultivars. Not only that, but people liked these species also. But Salvia Elegans is best known for its fruity fragrance and citrus-like flavor. Though some species have variegated foliage, others have unique and incredible edible flowers. The look is extraordinary and stunning as compared to other sage types. Below, we have listed down a variety of Salvia Elegans cultivar's names and brief descriptions.
Frieda Dixon is a well-liked variety and blooms of the salmon-pink-colored flower.
Elk Sonoran Red has the smell of pineapple and blooms pretty scarlet-red flowers.
Pineapple has flavored leave, a pineapple aroma, and blooms medium-red flowers
Honey Melon has a sweet tangerine fragrance and Tubular scarlet flowers.
Tangerine smells like citrus with deep red flowers. You will find it in a very compact size.
Golden Delicious produces crimson flowers that have bright golden foliage. Unlike others, this variety is eye-catching.
3. Salvia columbariae
It has multiple names. You can call it Chia, Golden Chia, Chia Sage, or Desert Chia. It is specifically present in the Southwestern deserts of America, and you can propagate this sage from seeds. It is a nutritious sage type. For Native American tribes, Salvia columbariae is a crucial food source. A tribe like Tongva or Gabrielino call it Pashiiy. Besides, the Ventureño Chumash tribe called it the chia it'epeš. It has two subspecies. They are as follows.
Salvia columbariae var. ziegleri– People call it Ziegler's sage.
Salvia columbariae var. columbariae– It is known as California sage or Chia.
4. Salvia Dorisiana
Salvia Dorisiana is popularly known as Fruit sage and has a fruit-like aroma. It is native to Central America and has pink flowers with a great fragrance. Besides, the flowers also taste delicious. As it has large leaves, you can harvest them with ease and dry them and store them for future use. Due to this reason, it is one of the preferred culinary sage types.
5. Salvia Melissodora
Salvia Melissodora, also referred to as grape sage, is a lesser-known sage type. As the name suggests, it smells like a grape. You can use its leaves and flowers to make tea. It can add an unusual flavor to this beverage. The flowers have a freesia-like fragrance, and that is why you can utilize them as an edible garnish.
6. Salvia Sclarea
Salvia Sclarea or Clary sage is a popular and traditional sage type. People used it for centuries. You might not believe that people call its aroma like a grandmother's blouse. But it has a balsam-like fragrance which is nice. It is unique as, unlike other sage types, Salvia Sclarea cannot tolerate drought. It prefers consistent and frequent watering and also likes cooler climates.
7. Salvia Gesneriiflora
Salvia Gesneriiflora is quite similar to other culinary sage types. People also call it Grapefruit sage as you can eat its leaves. But what sets it apart from others is its flowers. It has large and juicy flowers packed with sweet nectar. These are delicious, and you can directly pop them into your mouth and feel the taste.
8. Salvia Fruticosa
You will more or less notice this sage type in every grocery store. It is a famous variety and a prevalent dried sage form for cooking. Salvia fruticosa has young and tender shoots and leaves. As a result, you can use them to add some unique flavor to your recipes. Besides, you can also utilize it to make tea like Salvia Melissordora. If you visit overseas, you will notice that people call it Faskomilo tea.
9. Salvia Microphylla
If you ever visit Mexico, local people call it Mito de Montes. It means Myrtle of the Mountains. But other than Mexico, this sage is known as blackcurrant sage or Graham's sage. It has a black currant-like flavor, and you can make delicious tea with this. Besides, you can also utilize it for non-tea purposes as people often make tasty desserts with it.
10. Salvia Lanceolata
Originally a native to South Africa, this sage type is popular in the USA. It has a lemon and pepper-like taste. As a result, it is entirely different from other sages in flavor. It is a perfect companion for seafood dishes.
11. Salvia Hispanica
Salvia Hispanica or Mexican chia is a famous culinary sage variety. It is grown for its hydrophilic seeds, not for its leaves. The interesting fact is that the seeds produce a gel around themselves when exposed to moisture. That is why it is popular in overnight smoothies, oatmeal, and more.
What does wild sage look like?
White, Bee or Sacred Sage is a popular shrub with pretty silvery-grey or whitish evergreen leaves. The leaves have aromatic resins and oils. You will see its beautiful flowers that are sometimes a pinkish hue. A full-grown plant sends out its tall shoots that are around 5 to 6 feet in height. Smaller shrubs can seem quite different from the taller shoots. Anyone can easily recognize white sage from its fragrance and appearance. Its leaf clusters look like a pineapple top.
How to grow sage from cuttings?
You can propagate your coveted sage type with ease from cuttings. For this, you will need a few things ready, which are as below.
Rooting hormone (Ready-made or homemade)
A 3-inch pot with an adequate drainage system or a growing area
Potting mix and water
Once you have gathered these things, you can begin the propagation method. Remember that it is a lengthy process. As a result, it requires a lot of patience to grow sage from cutting. So, you might be wondering how to know the propagation method? Do not worry, as we have provided a detailed guide to help with the entire task.
1.Take some sage
At first, you need to collect some sage cuttings to begin the process. If you have any existing sage at your place, you can cut off some healthy cuttings from it. You are not required to take full branches as 4 to 6-inch long is enough. Though there is no specific time to take cuttings, the perfect time is winter and when the stems are slightly woody. So, by considering all these, take the cuttings first.
2. Strip off sage leaves
As soon as you have sage cuttings, now you need to strip off its leaves on the lower part of the stem. Before doing so, remember that you must take a 2-inch bare stem for the root base.
3. Apply some rooting hormone
At this stage, you can dip the cuttings into a rooting hormone. You can use any ready-made products or can make yours in your home. Though you can skip this process, it is best to do so as the hormone promotes better root growth.
4. Begin the root structure
If you apply root hormone, you can plant the cuttings in a well-drained soil mix. For this, you need to select a proper pot. The ideal size is 3-inch as you can move it with ease if necessary. But if you are not using any rooting hormone and wish to form the root structure before placing your sage in potting mix, you can also do so. For this, you need to place the cuttings in a container of normal water. You will see the roots sprouting out after 3 to 4 weeks. After that, you can plant it in the soil mix. According to sage experts, it is wise to plant it on earth when its temperature is between 60 to 70 degrees Fahrenheit. If you do not consider it, your sage might struggle due to heat, as sage prefers a cooler climate.
5. Wait for a few weeks.
Once you have planted the cuttings, you need to wait for at least 6 to 8 weeks, depending on the time you are growing the sage. You can place the sage in a warm and humid area to promote better root growth. Besides, if you have a greenhouse, you will get better results than you can ever imagine. But like most people, you do not have this. Well, you can make your greenhouse by putting a plastic bag over the pot and cuttings. It will work exactly like a greenhouse. Remember that in this stage, you might notice several leaves turning yellow. But not to worry, as this occurs due to sudden change in the atmosphere or transplant shock. In such circumstances, you can trim off those leaves to promote more growth.
6. Caring
After completing the above steps, now your sage is ready. But it is a crucial time as you will be required to treat it like a young baby. You will need to make sure that the little sage plant gets sufficient water and sunlight. Besides, you must check the top of the soil and keep it moist all the time. If you take proper care, it will automatically grow and outgrow its actual pot. You can then plant it in the ground or on a larger pot.
How to grow sage from seeds?
Apart from propagating from cuttings, you can also grow your coveted sage from seeds sown in the spring season. The propagation method is easy, and you can expect the seed to germinate within 10 to 21 days. If you want to grow sage from seeds, you need to choose quart-size pots instead of plastic trays as sage has a deep taproot. You can sprinkle the seeds, and you will require proper moisture and sunlight to offer better germination. When you water them, use a spray rather than blasted into the earth with water. Besides, the propagation method incorporates a few things. So, if you want to learn them, below we have provided several tips.
1.Soil type
Sage plants prefer a well-drained and well-fertilized potting mix. So, before sowing seeds, use some coco peat and compost. But if you want to plant them directly in the ground soil, you must dig down to about 18-inches. Besides, you will also require adding sand, which will lighten the soil, and the seeds will germinate better. In addition, you need to make sure that the soil has a 6.0 to 6.5 pH level. Remember that sage grows adequately in natural limestone deposits.
2. Sowing time
The best time to sow sage seeds is the springtime as soon as the frost has passed. Besides, you can do it for 4 to 8 weeks before if you keep them indoors.
3. Planting depth and spacing
As sage seeds require full sunlight to germinate, you must sow them not deeper than 1/8-inch. Additionally, you should maintain a space between 24 to 36 inches or 60 to 90 apart while sowing seeds.
What are the requirements for growing sage in pots?
There are several requirements if you want to propagate sage plants in pots or containers. They are as follows.
Location
Location plays a crucial role if you grow sage. Though you can propagate it in partial sunlight, several species require full sun. Therefore, you must place it in a position to get 6 to 8 hours of direct sun regularly. Besides, you can put it towards the west or south-facing window if grown indoors. But if it does not get sufficient sunlight, you can use grow lights to offer it healthy growth and development.
2. Soil
People use regular garden soil to propagate sage. But this is not the correct approach at all. Make the earth in a way so that it can remove excess water. You can add 20 to 25% compost and some sand to your soil mix.
3. Watering
Like every other plant, proper watering is necessary to avoid several complications. It is also applicable for sage plants. Therefore, you can water your little or newly repotted sage plant regularly. But as soon as it gets established, you must avoid overwatering it. When you notice its developed roots, you will be required to keep the top part of the soil moist. Apart from overwatering, bypass overhead watering to restrict root rot and several illnesses like powdery mildew and leaf spot.
Care for potted sage plant
Though the sage plant is exceptionally hardy and drought-tolerant, it also requires caring for better growth and development. After all, everything demands proper caring to live healthily. Therefore, you must follow the below caring tips to offer your precious and beautiful sage plant a correct living.
Compost
Unlike many other herbs, sage does not demand the best fertilizer or compost. If you use excessive fertilizer, the shrub loses its intense flavor. So, you can add aged compost or perfectly rotted manure when you make the potting mix. After that, you can give your sage plant some compost after 6 to 8 weeks intervals. You can also offer liquid fertilizer like 20-20-20 in very little quantity once in 4 to 6 weeks other than compost. Always remember that never feed your sage plant in winter or cooler climates as it might ruin their growth and development cycle.
2. Mulching
Plants and herbs that attract pests and insects require proper mulching. As they prefer to live in sage plants, you must mulch it. It is essential if you grow it in hot and windy weather. For mulching, you can use organic matter like straws and leaves. Besides, you can also utilize pebbles. It will retain the soil moist and assist in keeping the earth cool.
3. Pinching
Pinching is a crucial part of sage plants. If you want to make your sage bushy, you must pinch off the tips. You can do it when the plant is around 4 to 5-inches tall and has multiple leaf sets. You can pinch it by using your fingernails or shears. In the end, you will see many branches, and your sage becomes bushy.
4. Pruning and Deadheading
Like many other plants or herbs, a sage also demands hard pruning once a year. However, the best time is when new leaves and buds unfurl in spring. For pruning, you need to trim all dead, damaged, and decaying woody stems. After that, you can also do a slight trimming after flowering ends in the summer season. But pruning alone cannot offer fruitful results. Therefore, you must divide your sage plant once every 2 or 3 years to continue its life and vigor. In addition, you must remember that you need to prune the flower buds always before they begin to bloom. It will help your sage leaves to keep their flavor all the time. If you apply these, you can provide your sage plant with a normal and healthy life cycle.
5. Insects and Diseases
When growing sage plants, you must be aware of spider mites, aphids, and whiteflies. They attacked the shrub and caused catastrophic damages. In the end, the leaves will turn yellow, and the plant will eventually die. Therefore, as soon as you notice them, use insecticidal soap or pesticide and spray them over your precious sage. Apart from insects and pests, mildew can affect your sage plant severely in a pot. You also need to keep this problem at bay to offer better air circulation. For this, never place the pot in shade and duck wetting the foliage. Besides, give attention to the humid and hot atmosphere.
Care for outdoor sage plant
Whether you grow sage in a pot or outdoors, proper caring is quintessential to offer better growth. You have learned from the above segment about how to care if you plant sage in a pot. Now, it is time to gather some caring information to grow it in your backyard gardens. Therefore, go through the below tricks.
You can grow sage plants quickly and easily in your backyard. For this, you will be required to apply the following.
Keep the soil well-tilled and drained.
Mulch the area to maintain moisture, soil temperature, and it also decreases soil erosion and blocks pesky weeds from developing in the garden.
Water it carefully to keep the soil moist.
Frequently Asked Questions on Sage Growing
It is now time to look into the common FAQs related to sage.
1.Does the sage plant need full sun?
Sage plant is drought-tolerant. It best grows in medium to full sun. You can plant it indoors in a container. But for this, you must keep the pot near a sunny area. Besides, if you are in zones 5 to 8, your sage plant will be a difficult and healthy perennial. However, if you live in humid zones, it cannot bear heat and summer humidity. Therefore, your sage plant requires full sun, depending on where you are.
2. Does sage plant repel mosquitoes?
Sage plants have some general insect repelling properties. However, there is no scientific research or evidence for this claim. But what makes this claim is that several sage varieties have a strong odor. If you crush their stems and leaves, you will smell that fragrance. Though this is not directly related to a natural mosquito repellant, you can never rule it out as the aroma might work against the mosquitoes.
3. Does sage die off in winter?
As there are multiple sage species, some can tolerate extreme cool climates and some mild winters. Besides, a few sage plants can bear mild winter, eventually die after some time. It might appear brown, the leaves get dehydrated, and the plant dies in severe winter conditions. So, yes, some sage types die off in winter.
4. Is sage plant safe for pets?
Yes. Sage is safe for your precious pets. You do not need to worry if your dog or cat chews its leaves. After all, sage is a type of herb, not a toxic or poisonous ingredient. You can also make their food using it to add some unique flavor. But remember to never allow your pets to eat them a lot as it might lead to stomach upsets, vomiting, abdominal pain, diarrhea, and many other health issues. Therefore, add a little bit of chopped sage leaves on their foot to offer some nutritional benefits. Besides, sage also has antiseptic, antispasmodic, astringent, and antimicrobial properties. Hence, it is always safe for pets if given adequately.
5. When to prune the sage plant?
The best time to prune your precious sage plant is early spring. If you cut its leaves before winter, the plant might not adjust to the chill weather and die. If you prune at this time, it will grow new sprouts, and your plant will become bushier. But remember that if you see new shoots, you should never prune the plant.
6. When to repot a sage plant?
You will get indications for repotting. You will notice the roots have grown and popped up outside the soil. It is time to repot your sage plant. On average, you can transplant sage plants after 14 days. When you repot it, select a day that is not too hot or too cold as extreme heat or cold makes re-establishing sage plants difficult.
Wrapping it up
So, this is all you require to know details about growing sage. After reading the entire article, you can understand the sage plant has several varieties, and each has a specific aroma. These species can make your food delicious with their unique taste or fragrance. The colorful flowers also enhance the beauty of your garden or indoor area. Though you need to take proper care of them to propagate healthy sage, the task is quite simple. Unlike other types of plants or herbs, it never demands frequent watering as it can bear drought. Besides, though it attracts pests or insects due to its fragrance, you can get rid of this problem with ease. Therefore, add a little bit of magic in your recipes with sage leaves and flowers and increase your home's aesthetic value with them.
YOU MAY LIKE: